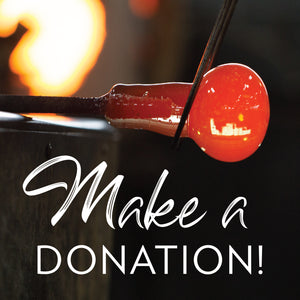 Donations and Tips!
Did you like what you saw on Facebook live? OR do you just want to help out the studio to continue offering the live feeds? Whatever the reason, this button was invented for just that!  
Any small business operating in this day and time is experiencing a daily gamble of what is going on! And in that process, we bend and twist and try to come up with things to keep us sane and allow us to use our creative talents.  For us, that resulted in blowing glass as a family in our studio.
If you like what we are doing, and want to support us, here is your chance!  Throw us some money - a tip, a donation, whatever you like!  We're happy to have your support and it fuels us to continue the shows.
Thank you in advance for your kind words and continued support.
Your family-owned glass studio.
----------------------------------------------------------------------------------------
Handcrafted in Michigan since 1991

----------------------------------------------------------------------------------------