Welcome to the Glass Academy!
Watch Live Glassblowing in the Studio & Shop our Holiday items during our Holiday Open House
Dec. 2nd & 3rd | 11AM-4PM

Watch The Gathering Point- Our live Glass Blowing show every Tuesday at 6PM (EST) on Facebook and YouTube.
Come join this fun-loving crew, a family of glass artists, as they navigate the twists and turns during this LIVE, educational glass blowing show. 

If you have questions, email us on our contact page.
Handcrafted glass for Purchase
---
Class Experiences and featured events
---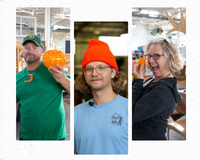 About the Glass Academy
The Glass Academy is the creative brainchild of founding artists Chris Nordin and Michelle Plucinsky. Often times you will find them in the studio directing the shows, the displays or working on custom orders for clients worldwide. The Glass Academy is a family run and operated glass studio located in Dearborn, Michigan since 2004 with a team of dedicated individuals making it happen.  
An extensive background in the glass arts with Bachelors of Fine Arts from the College for Creative Studies in Detroit, and Alfred University in New York (respectively), both artists have a wide resume of skills and job related experience that pushed them to open their own private studio and share their unique talents and gifts with the world.
The creative duo has attended workshops from Maine to Seattle to perfect their glass skills in addition to teaching at professional levels, traveling to work abroad in Italy, and running a production studio at the Henry Ford Museum.
Currently, the studio has taken their shows to a live platform on Facebook and Youtube offering FREE live glass demonstrations and products available for purchase during the Covid pandemic with their 2 children joining the family business.  Read more about their adventures on the Blog page of this website.
Read More About Us
What Our Customers Are Saying
During Covid-19 I was very pleased with all the precautions made and lots of personal protective equipment. Very easy and safe to enjoy.

Happy Hour
Great time! I was happy about social distance, everyone wears masks, & it was fun. Jason & Joey are awesome instructors and very helpful. Thank you.

Sporella Mushroom
All of my experiences with Glass Academy have been wonderful! I especially appreciate how the instructors allowed and encouraged us to participate at our comfort level. At no time did I feel overwhelmed or in danger. The instuctors and staff helped us all feel welcome and valued.

Beginner Class
Location
GLASS ACADEMY
25331 Trowbridge St.
Dearborn, MI 48124
(313) 561-4527
Hours of Operation
Thursday & Friday: 4pm-7pm
Saturday & Sunday: 11am-4pm
Appointment only Mon-Wed
We offer shipping in the US on all online orders.
Custom content
Live Glassblowing Every Week!
Did you know we stream LIVE glassblowing on Facebook and YouTube twice a week? On Tuesdays, at 6:00PM (EST), you can watch our 2 hour show, The Gathering Point. On Thursdays, at 1:30PM (EST), we stream the Annealer Reveal, where you can see the items made on Tuesday's show, fresh out of the cooling oven!