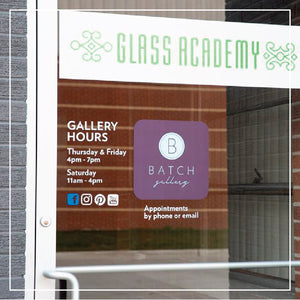 by Michelle Plucinsky
BATCH Gallery features handcrafted, high quality, and carefully curated works of glass art, both functional and decorative.
While many of your favorite traditional items like pumpkins and ornaments will still be sold, you'll also begin to see new accessory items such as candles, tote bags, and puzzles with our products on them, as well as blank gift cards with gorgeous imagery.
Seasonal themed shows will continue with new artists regularly being featured in the gallery. Along with different mediums and more décor items such as lamps and beautiful drinkware sets like pitchers & drinking glasses.
by Michelle Plucinsky
Try as I might, I can't stop.
I'm continually thinking of ways to improve, advance, explore, and try new ideas.
It's just exciting!!
The shiny object floats past my vision, enters my mind, and I can't stop until we've tried the idea, product, etc.