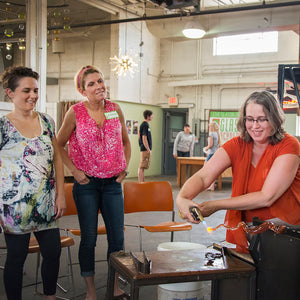 CLASS EXPERIENCE: An Exclusive Class For YOUR Group
Regular price $750.00 Sale
Host your next get together, event, or celebration at the Glass Academy!
We are pleased to offer an exclusive hands-on glassblowing experience for you and YOUR group. Perfect for birthdays, bachelor/bachelorette parties, team/family bonding, or an afternoon out with friends. Currently we are booking for select Friday evenings, and Saturday/Sunday afternoons.
One of our studios will be exclusively YOURS for this fun and exciting class, tour, and demonstration. Lifetime memories will be made with your friends or family, as you experience and create with molten glass in a safe environment.
As a group, you will decide which project you want to create from the following options:
Strawberry - Glass Strawberry Decor
Meditation Globe - Decorative Paperweight 
Percolla Reed - Garden or Plant Accent 
A Glass Heart -Decorative Paperweight
Ringtello - Ring Holder 
Sporella Mushroom - Garden or Plant Accent 
MIchigan Icicle - Hanging Decoration made out of recycled glass
You may decide as a group prior to your event. Or you can decide the day of your event after viewing our project samples. 
All of the project options are designed by the founding creators of the Glass Academy and original to our studio. You'll enjoy your unique handcrafted glass memento for years to come as you display it proudly in your home.

During this 1.5 hour experience you will get a behind the scenes look at our glass blowing studio, tour of BATCH Gallery, and create a unique glass keepsake in a safe environment.
No experience is necessary for this fun and unique experience!
We supply all the tools, color, and materials. Each group member will get to make one item.  
We have a small selection of soft beverages for sale, but you are welcome to bring food and/or drinks. We do ask that you notify us prior to your event if you plan to bring food and/or drinks. 
Pricing
The price starts with a base fee for 6 people. Each additional person will be $125 (*Due to high demand, during the month of December, each additional person will be $150.)
Expect to spend 1.5 hours in the class for 6 people, additional people will lengthen the time of the class. Maximum students in a two hour class is 20. Click here for information about booking an event for more than 20 people. 
If you expect more than 6 people in your group, let us know how many people you expect (under the box that says "add a note to your order") and we will send you an invoice for the remaining balance. 
Questions? Just ask us!
If you have any questions please feel free to contact us HERE!
Choose a date and book your class!
BEFORE buying, please review our class policies - when you make a purchase, you're agreeing to all our policies and procedures!
All of our policies and FAQs can be found HERE!
As a small, family owned business we have been honored to provide hundreds of customers with countless, unforgettable experiences at the Glass Academy.
Note: You must be at least 16 years of age to participate in this class!
Find Us On YouTube!
Want to watch our glass blowers work their magic? Make sure to subscribe to our YouTube channel for updates on new experimental shows, annealer reveals, and our live shows. You don't want to miss an episode of our weekly glassblowing show, The Gathering Point! 
Handcrafted in Michigan since 1991