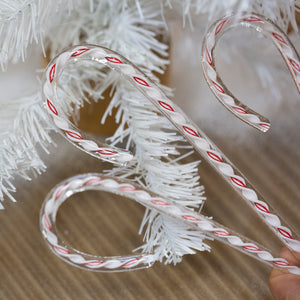 Candy Cane-Peppermint Drizzle
Regular price $0.00 $26.00 Sale
Peppermint Drizzle Candy Cane
These beauties are a wonderful mix of everything that makes the holidays special! 🎁 A classic clear color with a white and bright red thread of glass twisting through the center

Using a special recipe of solid white glass, these candy canes are handmade, one by one, with a careful twist of glass. ❄️
Peppermint Drizzle is named from the classic look of the winter holidays ~ cookies, cakes, and specialty beverages that use peppermint as an ingredient, against a white background of whip cream, fondant, or white chocolate.
Inspiration comes from many sources and this year FOOD was the main attraction as we prepared for the holiday season.
Follow us on our Youtube channel to watch videos on how the ornaments are made.
PLEASE NOTE: While we do our best to make them uniform in size and shape, they are all handmade, so both size and color patterns will vary. Be sure to get yours today!
These ornaments are a limited edition